COVID 19 - MASJID CLOSURE Updated
posted on: March 24,2020


Following the announcement by the PM Boris Johnson, on 23rd March, that places of worship will be closed, the committee hereby advises that with immediate effect Masjide Noorul Islam will be closed until further notice. Due to the closure there will be no programs or prayers over the transmitter / receiver system.

There will also be no services provided for wedding (Nikah). Please make duas that these government restrictions are lifted before Ramadan.

The services for funerals have been exempted so in the unforeseen circumstance of requiring assistance with funerals, please contact our dedicated team on 07578 389796.

Please continue to pray at home and make dua for whole of humanity and ask for Allah's forgiveness.

Please stay in contact with your elderly and vulnerable relations.
MOBILE APP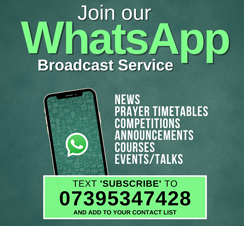 LIVE STREAMING


Click here or use above player
CB Frequency 454.250