COVID 19 - MADRASSA CLOSURE
posted on: March 19,2020

Following the Government update regarding the closure of schools the Management Committee have taken the difficult decision to close the Madrassa from Monday 23rd March 2020 with Friday 20th March being the last day of Madrassa.

We will be communicating with all parents to provide a revision timetable so that the impact on all students' studies is minimal.

The Prophet SAW said, 'Do not make your homes into graveyards' (Sahih Muslim). Therefore, we urge all parents to regularly go through their sabak with their children and ensure that our homes are filled with dhikr and nur during these testing times.

We as Muslims believe this virus to be a test from the Almighty. We humbly request you remember us, our Masjid, and the entire ummah during these times in your prayers and the prayers of your children, for surely, the duas of our children are guaranteed to be accepted.

Allah grant everyone good health and keep everyone safe from all forms of ill health and difficulties and keep us all steadfast on Deen, Ameen.

We appreciate your understanding, support and patience.


Jazak Allah / Shukran,


Mawlana Mohammed Tayyab Sidat
Principal
MOBILE APP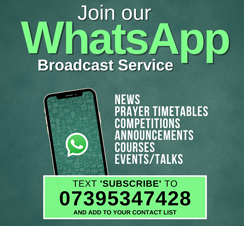 LIVE STREAMING


Click here or use above player
CB Frequency 454.250