MyMosque
posted on: April 17,2014
Latest Update to My Mosque went live on Thursday 10th April 2014
Assalaamu Alaikum Warahmatullahi Wabarakatuhu,
Dear Borthers and Sisters in Islam we pray this reaches you all in the best of health and imaan - Ameen.
Based on your feedback, we listened to you all and from Thursday 10th April 2014 we have totally scrapped the sign up process and logins - this means you no longer will be required to login to check your Masajid information. In addition in the following weeks you will see some more cool changes to My Mosque Inshallah.
If during the update you find you have lost your subscriptions we apologise in advance and ask you to go back in to the app and subscribe to your Masjid again
Finally, as a means to earn Sadaqah Jahria please let your friends and family know of the changes and ask them to download My Mosque and subscribe for FREE to their Masjid. Also, please help our elders to download the app so that they too can benefit from it, Inshallah.
We thank you all for being patient with us and supporting us during this initial phase and Pray Allah(swt) grants you all success in this life and the Hereafter Ameen.
Jazakum allah Khairan
## Download on play store or app store or visit
MOBILE APP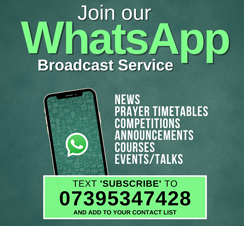 LIVE STREAMING


Click here or use above player
CB Frequency 454.250